By Braden Keith on SwimSwam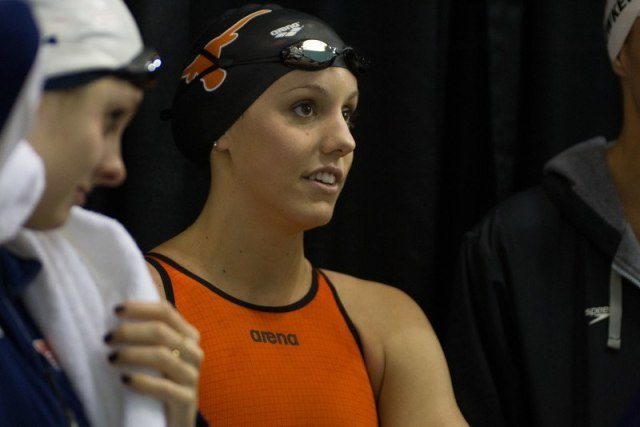 To see all of our 2019 Swammy Awards presented by TYR, click here.
2019 Viral Video of the Year: Stand-Up Comedian Matthew Broussard
Stand-up comedian and former registered Masters swimmer Matthew Broussard hosted the 2019 Golden Goggles Awards, where he made several jokes about swimmers and swimming. But, that's not where he got his start in Swim Comedy.
In early 2019, Broussard made an appearance on The Tonight Show Starring Jimmy Fallon, where a big portion of his set revolved around his girlfriend Laura Sogar, a former US National Teamer and NCAA All-American swimmer.
Sogar, who is now retired according to Broussard, won a silver medal in the women's 200 breaststroke at the 2012 Short Course World Championships in Istanbul, and added a bronze in the women's 400 medley relay. She won the same two medals in the same events at the 2013 World University Games in Kazan.
Collegiately, the 27-year-old competed for Texas and was the 2013 NCAA champion in the 200 breast, and her personal best time of 2:05.04 ranks her 9th all-time in the event. She also won the 2015 National title at the Long Course Nationals in San Antonio in the 200 in a best time of 2:23.54.
Her last major competition came at the 2016 Olympic Trials, where she placed 15th in the 200 breast and 22nd in the 100 breast.
The post is our second most-viewed video post of 2019 (behind the one debating over Lilly King's disqualification at the World Championships, which made the rounds less because of the video and more because of the debate).
Here's to many happy returns for the couple, partially because it's nice, and partially because standup comedians doing swimmer standup ups the cred of the sport with mainstream audiences.
Honorable Mentions:
Dave Durden and the Cal men go bizerk after Daniel Carr's controversial re-swim in the 100 back at the men's Division I NCAA Championship meet in March. After a block malfunction in prelims, Carr was given a reswim to qualify for finals, and made the most by qualifying for the A-final.
Olympic Dark Horse, swim coach Shane Tusup's YouTube series intended to present his journey with swimmer Ilaria Cusinato, among others, toward the Tokyo Olympics, was the series that our audience loved to hate in 2019. The 16-episode series ultimately fizzled after Cusinato left the group, though Tusup is still coaching a handful of other swimmers including Liliana Szilagyi, Wojciech Wojdak, Brazilian Nana Almeida, and Zsombor Bujdoso, but the group trudges on. Playlist below.
Previous Winners:
2018 – The Year of the Vlog
2017 – Adam Peaty Mirror Breaststroke
2016 – Fu Yuanhui Doesn't Know She Won Olympic Bronze
2015 – Louisville Airport Training
Read the full story on SwimSwam: 2019 Swammy Awards: Viral Video of the Year, Matthew Broussard Standup
Read more: swimswam.com