Talk about tea!!
Ashley Tisdale took a look back at her career, all the way back to her High School Musical and Suite Life of Zack & Cody days, including her worst ever on-screen kiss. Unfortunately, her pick may have just shattered hearts everywhere!!
Related: Everyone Is Stanning Sharpay Evans From 'HSM' On Twitter, & We're Not Mad!
In a video interview with Elle Magazine, the 34-year-old opened up over drinks about an offputting experience from 2006 with none other than Zac Efron.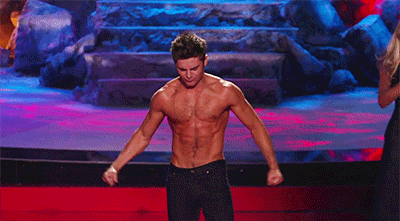 Obviously, the two starred in HSM together, but Efron also made a cameo appearance in a 2006 episode of the Disney Channel series where Tisdale's character, Maddie, kisses Efron's character, Trevor.
Miz Tisdale explained to the publication:
"I'll tell you why it was the worst, OK?. It's the worst because I'm so close to him and he's like my brother. At the time, he was used to acting on, like, Warner Bros, which is The CW, and we were on Disney Channel."
The two were already friendly after filming the flick together, but Mr. Efron was also starring on the drama Summerland at the time. Ashley added:
"And so he, like, he tried kissing me with his tongue, and I was like, 'Get away from me!' I, like, closed my mouth so fast. I was like, 'This is Disney Channel! We don't kiss like that on Disney Channel!' It's just weird when you're so close to somebody. We had already done [High School Musical]. I had known him for years before. That is why it was the worst. It's just [that] we're just too close."
LOLz!!
In case you don't have Disney+ to binge the series, now's your chance to re-watch the moment:
Speaking of her days on Disney, she also sounded off about which Suite Life co-star (Dylan or Cole Sprouse) she'd rather bring with her to a deserted island:
"You know, they're both like my little brothers. You know who texts me back all the time? Is Dylan Sprouse. He's the one who texts me back. Cole, sometimes silence, so I'm taking Dylan. That's for just ghosting on me, Cole."
SMH, Cole!!
We wonder what Vanessa Hudgens has to say about all of this!! We totally understand Ash's answer though.
Give Tisdale's full vid a watch (below):
Does this story totally bum U out, Perezcious readers?? Sound OFF (below) in the comments with your take!!
[Image via FayesVision/WENN.]
The post Ashley Tisdale's Worst On-Screen Kiss Might Break Your Heart appeared first on Perez Hilton.
Read more: perezhilton.com