Remember those star-studded charity singles from the '80s, like Do They Know It's Christmas? Remember how they were kind of… terrible??
Don't get us wrong, their hearts were in the right place, and we certainly hope as much of those proceeds went to charity as advertised, but the music was always worthless tripe.
Well, in the spirit of those classics, Gal Gadot put together a group of A-listers herself to serenade the world in these dark times! Okay, she didn't put them together together, that would have been remarkably irresponsible, but she did enlist the talents of some celebrity friends, including Kristen Wiig, Pedro Pascal, Jimmy Fallon, Jamie Dornan, Zoe Kravitz, Sarah Silverman, Natalie Portman, James Marsden, Amy Adams, Leslie Odom Jr., Kaia Gerber, Chris O'Dowd, Cara Delevingne, Ashley Benson, Will Ferrell, Mark Ruffalo, Norah Jones, Sia, Maya Rudolph, and fellow Wonder Woman Lynda Carter to help her sing John Lennon's Imagine to us.
Related: Kaia Gerber & Margaret Qualley Are Hanging Out Now
She introduced the musical number on her Instagram Wednesday night by saying the global pandemic had her feeling "a bit philosophical." She recalled watching a video of "this Italian guy" playing the trumpet from his balcony to all the people socially distancing in their apartments and how "powerful and pure" it was. So she tried to recreate it with celebs.
And it is really… something.
Ch-ch-check out the celebrity panacea AND the not-so-impressed response it got online (below)!
View this post on Instagram
We are in this together, we will get through it together. Let's imagine together. Sing with us ❤ All love to you, from me and my dear friends. #WeAreOne ……. #KristenWiig #JamieDornan @labrinth @james_marsden @sarahkatesilverman @eddiebenjamin @jimmyfallon @natalieportman @zoeisabellakravitz @siamusic @reallyndacarter @amyadams @leslieodomjr @pascalispunk @chrisodowd @hotpatooties #WillFerrell @markruffalo @norahjones @ashleybenson @kaiagerber @caradelevingne @anniemumolo @princesstagramslam
The video quickly went viral but largely for the wrong reasons.
Some pointed out how it was a little pitchy, dawg. We mean, you can't really be surprised as only like three people on that list are known for their singing. This was like We Are The World if all of them were Dan Aykroyd.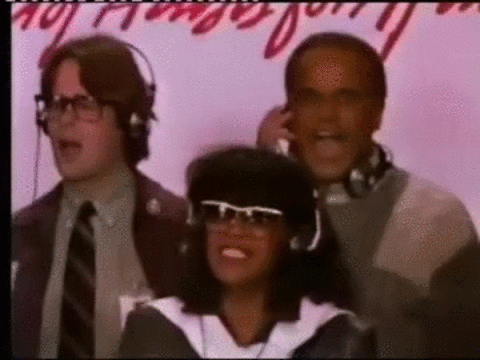 But mostly people were annoyed at the whole "we are in this together" rap from millionaires who can afford to take six months off work and have no idea what real people are going through right now.
See some of the strongest reactions — and funniest memes (below)!
"I'm sorry but we are not in this together. For people that are very well off this quarantine means virtually nothing. But to those who need to work as much as possible to make ends meet, they are hurting now more than ever. Those that are wealthy only have to worry about not getting bored, those living paycheck to paycheck have to worry about surviving."
"I guess the sentiment is nice, but every single one of these people are so out of touch with reality that it's cringeworthy to for them to say "we're all in this together". No not really, us common folk are struggling just to get tested. Meanwhile, y'all are getting quarantined in your million dollar mansions"
Gal Gadot, Amy Adams, Natalie Portman, Pedro Pascal, Kristen Wiig, Jamie Dornan, Will Ferrell and Jimmy Fallon after posting that video of them singing "Imagine" off-key pic.twitter.com/CLTHgsS3XV
— a (@ephwinslow) March 19, 2020
Gal Gadot and friends pic.twitter.com/ptHjTXeaHj
— Daniel (@sillyolddaniel) March 19, 2020
Gal Gadot and those celebrities after posting a video of them attempting to sing "Imagine" pic.twitter.com/BaCNmDJ0A0
— a (@ephwinslow) March 19, 2020
me seeing some of my fave celebrities singing in the gal gadot video pic.twitter.com/i1iKVDPuRz
— 𝕝𝕒𝕪 𖤍 (@peachy_peter) March 19, 2020
Me when Amy Adams popped up in that Gal Gadot singing video pic.twitter.com/FLAzhHQiku
— Allie (@Golden_Josette) March 19, 2020
Jeff Goldblum getting back to Gal Gadot pic.twitter.com/lBHIURuy77
— Gianmarco Soresi (@GianmarcoSoresi) March 19, 2020
We should note, not everyone bristled at the vid.
For the past 12 hours Gal has been posting clips of fans singing Imagine back to her from all over the world on her IG Story.
What do YOU think, Perezcious readers? Out of touch celebs trying to help in the most wrongheaded way? Or stars taking a minute to try to provide a nice message and being treated way too harshly for it??
[Image via Gal Gadot/Instagram.]
The post Gal Gadot Gathered Celebs To Sing From Quarantine — And People ROASTED The Hell Out Of It! appeared first on Perez Hilton.
Read more: perezhilton.com