Jay Cutler is no longer on Instagram!
Hours after the world witnessed a nostalgic reunion for the ages between former beaus and Laguna Beach co-stars Kristin Cavallari and Stephen Colletti, the 37-year-old retired NFL quarterback ditched the social media platform — and of course, it wasn't a coincidence.
Related: Jay Cutler Hunted Down A 'Chicken Serial Killer' On His Farm Amid Divorce!
As it turns out, Cutler did NOT appreciate seeing his estranged wife cuddling up with her old flame amid their divorce and the onslaught of public opinions that came with it. A source told E! News of the situation:
"In the wake of the photo, Jay was getting a lot of heat on social media. He was over it and deleted his account."
Oop!
It's unclear what type of comments were being made to Jay, specifically, but we can't imagine they were as nice as what was left under Kristin and Stephen's pic. Either way, we'll never know because as of Wednesday night, his account @IfJayHadInstagram had vanished.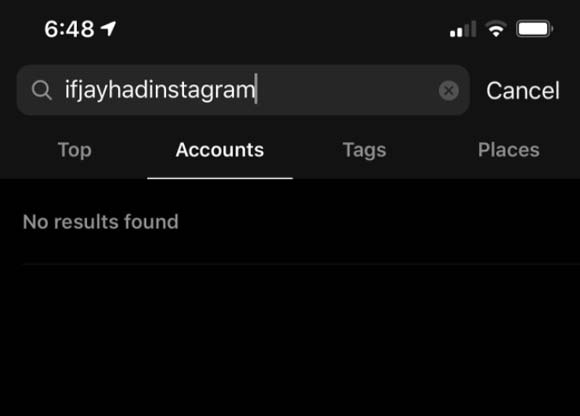 Bye for now! / (c) Instagram
The former pro athlete did not post often, but he did see an uptick in attention to his page after uploading several videos about his weeks-long chase to catch a "chicken serial killer" on his Montana farm. In July, Jay discovered a raccoon was responsible for killing them by the way, but if you were thinking about going back to watch the saga unfold, or check out anything else on his feed, you're SOL!
We should let you know that insiders have confirmed the pair of MTV stars are not back together, despite the cozy viral photo. However, that point aside, there are still a few other reasons why Jay can appreciate some digital distance from his ex right now.
As we reported, Kristin has since moved out of the couple's old place into a new home in the Nashville area, which she bought shortly after their divorce announcement in April. A source shared the reality star was excited to have a "fresh start" following the split and was "in the process of decorating and making it a home." We heard more reports that she has been in a "really good, happy mood" lately and it has everything to do with her new chapter as a single woman. The confidant told E! that it hasn't been easy for Jay to watch this all unfold:
"With the way things are progressing, I think he's actually starting to regret the divorce."
Yeah, we might feel the same way if we were in his shoes. Especially after that steamy photo!!
Speaking of the legal separation, proceedings are well underway and the Very Cavallari stars are said to be "amicably" working to untangle their finances. Additionally, back in June before the old connection with Colletti was even a thing again, Kristin made a sweet show of support to the father of her kids on IG for Father's Day. She wrote a cute tribute about co-parenting Camden, 7, Jaxon, 5, and Saylor, 4, together that read:
"Saved the best for last….happy (late) Father's Day to Jay. We had a beautiful day together yesterday at my new house. Modern family? Co-parenting? Whatever you want to call it, we are navigating it the best way we know how. And what I do know is, our 3 kids are lucky to have him as their daddy. Hopefully they all 3 get a smidge of that heart of gold."
Maybe Jay will reactivate his page in time for next year's tribute but until then, it's quiet on that front. Would U react this way, too, Perezcious readers? Sound OFF with your opinions on all of this (below) in the comments section!
[Image via WENN/Instar/Kristin Cavallari/Instagram.]
The post Jay Cutler DELETES His Instagram After Kristin Cavallari & Stephen Colletti's Reunion Pic! appeared first on Perez Hilton.
Read more: perezhilton.com