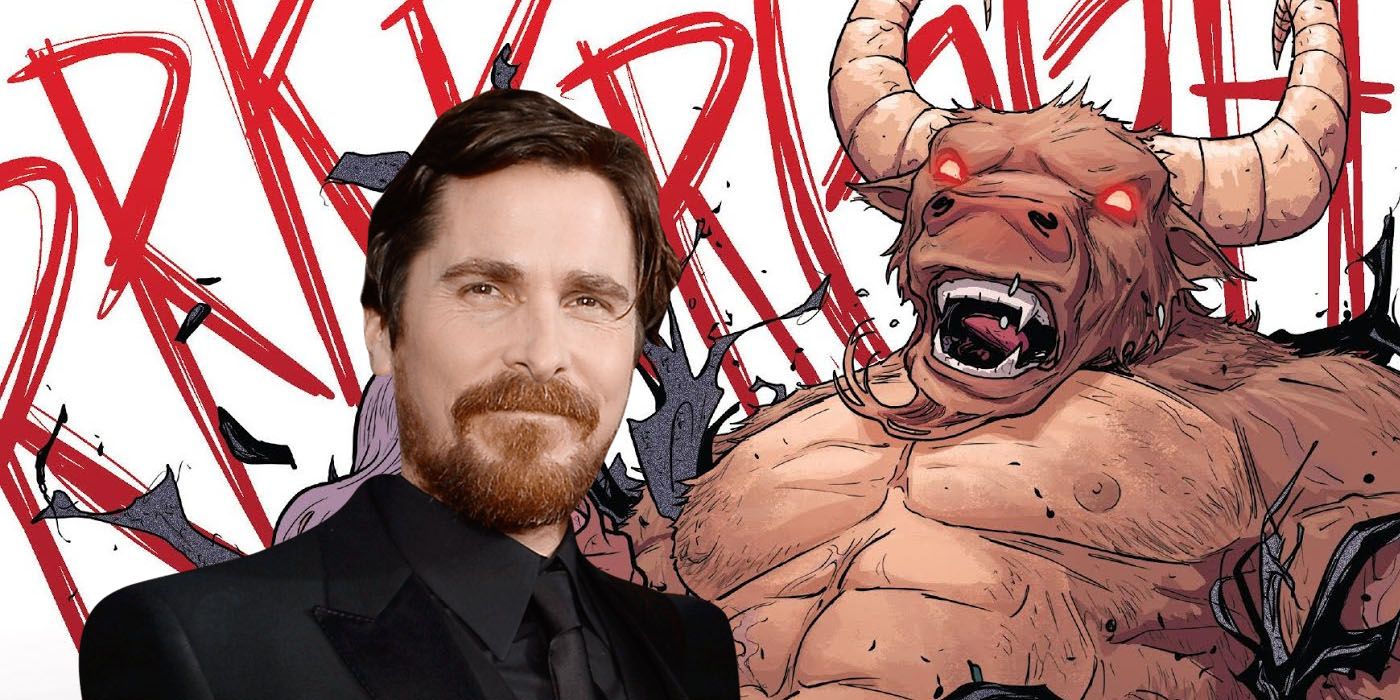 Well-renowned Marvel Comics writer Jason Aaron has an idea about who Christian Bale should play in the upcoming Thor: Love And Thunder – Dario Agger, aka The Minotaur. The 2014 Thor writer suggested this on social media, right on the heels of reports that the former Batman will cross over into the Marvel Cinematic Universe in the highly-anticipated Thor sequel.
Created as a part of Aaron's 2014 Thor: God of Thunder run, Dario Agger was on vacation with his family when pirates attacked their private island when he was a boy. Fleeing to a nearby cave, Dario found a magical statue and prayed for the power to enact vengeance on the world, unwittingly gaining superhuman strength and endurance, as well as the ability to transform into a giant, bull-like creature of myth. Armed with these dark powers, Dario gained control of the sinister Roxxon Energy Corporation as an adult, seeking wealth and influence by any means necessary. His murderous ways and environmentally destructive business practices eventually put him in repeated conflict with both Thor Odinson and his successor Jane Foster, and he even once aligned himself with Malekith the Accursed and Loki's biological father, the Frost Giant Laufey, as part of the villainous Dark Council.
Related: Marvel Characters Christian Bale Could Play in Thor: Love & Thunder
Jason Aaron made the suggestion on his Twitter page for Bale to play the character he created six years ago. "You know who's got my vote. "Who Is Christian Bale Playing in THOR: LOVE AND THUNDER?"" Aaron mussed while posting a screenshot of Agger. You can check out the full tweet below:
Fans were caught off-guard when Bale was reported to be in talks for a role in Love and Thunder, which is set to be released in 2021 as a part of the MCU's post-Thanos Saga Phase 4. Thor: Ragnarok director Taika Waititi will return to helm the film, which will feature Thor passing his hammer and powers down to Jane Foster, as was first depicted in Jason Aaron's run – which is where Dario Agger made his first appearances, interestingly enough.
Since he was first reported to be in the film, fans have suggested that Christian Bale play alien Mjolnir wielder Beta Ray Bill, but there might be a stronger case for him to step into the role of Dario Agger. Having portrayed the killer stockbroker Patrick Bateman in American Psycho and billionaire playboy/vigilante Bruce Wayne in The Dark Knight Trilogy, Bale is no stranger to playing wealthy men with dark secrets. He could easily bring that same white-collar swagger to Agger's public façade while giving the beastly Minotaur the brutal edge that made his Batman so intimidating.
As a character, Agger's greed and callous attitude towards science and nature would make him a good foil for the scientific and moral Jane, and the Minotaur's raw strength and power would serve as a credible threat for Thor. Additionally, Dario could follow his comic incarnation and join forces with another, more strategic villain to take the two Thunder Gods down: perhaps either the as-of-yet-unadapted Enchantress or even the past version of Loki that was last seen escaping SHEILD's clutches with the Tesseract during the events of Avengers: Endgame. Fans will see if any of this comes to pass when Thor: Love and Thunder hits theaters on November 5, 2021.
More: 2021 is the Ultimate Marvel vs. DC Movie Battle
Source: Jason Aaron/Twitter
Read more: screenrant.com